Finding joy and gratitude in the balance between work and parenthood.
---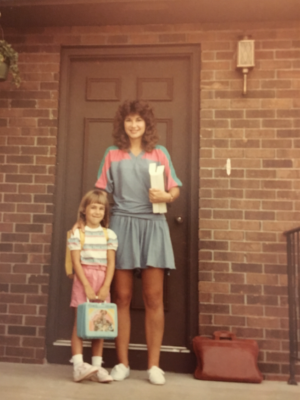 Every year when Mother's Day rolls around, I find myself taking a long look at a particular photo of my mom and me (at left). We are standing in front of the first house I remember living in, in Iowa City. As it happened, that was my first day of kindergarten and her first day of law school at the University of Iowa.
My father seized the opportunity to capture this happy coincidence. I don't remember many details from that day, but I distinctly recall how very proud I was of her.
As a small child, I remember my mom working many long hours. I would eagerly wait by the window for what seemed like hours, face pressed against the glass, as I watched for the glow of her headlights on our street. She would return from the office wearing dark, classy suits with pumps and hose – a decidedly different wardrobe than most of my friends' mothers.
In the mid-1980s many women were not working outside of the home. I remember being so proud of my mom when she picked me up from aftercare. I was often the last child to be picked up, but those rides home were a great opportunity for us to chat – just the two of us.
My mother served as the perfect role model for the kind of mom I aspire to be. She pursued her career with great passion and dedication, just as I do today. Similarly, we are both loving moms whose first priority is nurturing our children.
Thankfulness amidst the chaos
As a working mother of two, I often feel overwhelmed or as if I am being pulled in different directions. Looking at this photo of my mother and me today, I can only imagine how my mother felt. She was probably overwhelmed too. Yes, I am sometimes tired, as she must have been, but I feel so lucky to have the best job I can imagine. Her passion and intelligence inspired me to be both a good mom and a good physician.
A working mom's reward
If there is one thing my mother taught me, it's that hard work – in and out of the home – fosters an environment full of pride and love. This satisfaction is the working mom's reward. She taught me that it is possible to skillfully navigate the obligations between work and home. She succeeded not because she was perfect, but because she was fiercely passionate in both arenas.
I am privileged to care for women during their lifetimes. I feel so lucky to announce their baby's gender as I deliver their newborn into their arms. These moments make me nostalgic for the deliveries of my own children. This joy helps me empathize even more with my patients.
Being able to go home to my son and daughter is such a celebration, just like their delivery days. I'm lucky enough to be able to snuggle up beside my kids and my husband after an exhausting overnight shift at the hospital. I hope that I am serving as a role model for them as I live out my professional calling, just as my mother did for me.
The moments when I might feel impatient, exhausted or overwhelmed are the times when I'm forced to take a step back to look at the big picture – or maybe just that photo of my mom and me. I see that I am blessed beyond measure to live the crazy, busy and wonderful life of a working mom.