Erin Burnett promotes breast cancer awareness by sharing her insightful experiences with double mastectomy & being a breast cancer survivor
October is Breast Cancer Awareness Month. It was created to help raise funding for research into cures, improved treatments, and better detection and prevention efforts. Supporting the people who have breast cancer is the larger mission of this month, or any awareness month.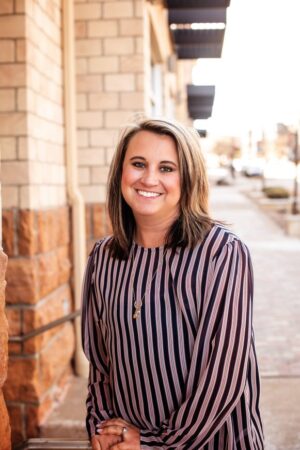 One way to raise awareness is for survivors to share their stories. My name is Erin Burnett and I am the office manager at CU Medicine OB-GYN East Denver (Rocky Mountain). I am a breast cancer survivor and I want to share my story with all of you.
For the past five years, I have told my story in my personal blog with honesty (sometimes brutal), insight, personal introspection and details about dealing with breast cancer. The title of my full blog is Following My Arrow. I have included some excerpts and summaries here to give you some insights into my experience.
I hope that reading my story will encourage those going through similar experiences and help others who are not directly affected by the disease to understand its magnitude. As an OB-GYN office, we are often part of a patient's initial breast cancer diagnosis. At CU Medicine OB-GYN East Denver, we do not perform mastectomies, radiation or chemotherapy, but we do our best to support our patients in any way we can. I'm hoping that by sharing my story, I can help everyone understand a little better what it is like to fight breast cancer.
Bracing for chemotherapy side effects
Took some Zzzzzz Quil last night to avoid staying up with worry or fear.
– The first line from my very first post, Chemo Round 1, April 6, 2016
Getting undressed is painful and looking in the mirror at my body, scarred from a lymph node biopsy, port placement and multiple breast biopsies. After first crying, I gathered my courage and hope, and began to feel proud. Proud of myself for being ready to fight this cancer "with every single fiber of my being."
I knew that chemotherapy side effects were coming and wished that I had a Cliff Notes of cancer with all the answers, so I wouldn't have to read the whole book. I was nervous to go home after my first day of chemo, like going home from the hospital with your new baby with no nurse to lean on for all the answers.
In my next post, I wrote about chemo side effects that included nausea, dry skin, dizziness, aches, pains, diarrhea, vision changes, numbness in hands and feet, more headaches, weird painful bruising/rash in my arm pits, and worsening fatigue. Especially troubling were the gastrointestinal side effects.
Two posts later, I wrote about another side effect of my treatment.
Another struggle that I've been working through is grieving my fertility. Even though having another baby was never something we really planned on doing, being told at 29 years old that you cannot have a child is really hard. Because my cancer is hormone receptive, a pregnancy would be very risky for my body. Part of my treatment plan is removing my ovaries after all of my treatment to "shut down" my hormones to make sure we are not feeding my cancer and to prevent a reoccurrence.
I've struggled more than I had anticipated with coming to terms that I will not be having any more children. I don't really know how to explain the feeling. We have our 2 boys, and we love them and our family, with all that we are, but grieving my fertility whether we were having another child or not, has been very difficult.
Finding a cancer support group
One aspect of breast cancer awareness is learning how much the support of other people can mean to the woman undergoing the treatment and uncertainty. Organized breast cancer support groups certainly help, but the family and friends closest to you make up your essential support group. In a later post, I wrote about being heartbroken losing friends and realizing that some people I thought were friends were not. This is a pain few know of and often comes with a cancer diagnosis. It made me even more grateful for the friends who stood by me.
Support from my mom helped me get through each day. My step mom, sister, daddy, step daddy, in laws, grandparents all gave their support, and I just had to get better at "letting them in." My husband, Ty (the truest relationship I have), and two boys, who amaze me with their love, support, innocence and happiness, helped me through all of these tribulations.
You should find the person out there that will love you no matter what comes your way, in thick and thin, that you don't even have to say anything, just give a look and he knows what you are thinking or feeling, the person you can count on for anything, even just a simple laugh, and the friendship that doesn't cause havoc on your heart … How could I not succeed with the most incredible, and I mean incredible, best friend and husband by me every single step of the way? My two amazing little boys have lifted me up and given me strength I did not know I even had. My family, and the few true friends I have are so important to me. Thank you all for every little thing you do for me and my family!!
Detecting breast cancer
The providers at CU OB-GYN East Denver (Rocky Mountain) encourage women over the age of 40 to have an annual breast exam as part of the gynecologic exams we routinely provide. In addition, we recommend that all women have an annual screening mammogram starting at age 40. Catching breast cancer early makes treatment more effective.
The struggles of a "weirdo" cancer patient
Even though my providers did their best to prepare me for what to expect through each step of my treatment, often things do not go according to plan.
I started struggling emotionally Sunday in anticipation for going in for round 5 of chemo today. I cannot begin to describe the fear I feel leading up to the first drop of chemo going into my port. I want to continue feeling good, have energy, function somewhat normally, and get up and ready for work with less pain.
As scary as it is though, I walk in today, no wig, smile on my face, hand in my husband's ready for another round of chemo to fight this cancer! … Our M.A. grabs us for our pre chemo appointment with my oncologist. He walks in and greets me with, "well hello 'weirdo'." I get this comment because I have truly had the weirdest side effects that seem to stump everyone.
How do you prepare for mastectomy?
In my blog, I shared that while I would just like to keep my breasts, I knew they were very mean and trying to kill me. I decided that I would not try to save the nipple on my right breast, giving me symmetry with my missing left breast and nipple. I also had to decide what I wanted my breasts to look like after reconstructive surgery.
After a few hours of sorting through pictures of different reconstructed breasts, I saved the ones, or should I say "pairs," that I liked the best. At this point, I took a BIG deep breath, and texted my husband something to the effect of "I'm going to send you some pictures of boobs I like. Can you please look at them and tell me which you like the best? And then could you please delete them from your phone, never ever think about them again, and promise me you will love my boobs the best no matter the scars?"
The difficult journey to breast cancer survivor
My blog doesn't stop there. In fact, everything above is just from 2016. My blog describes so much more, like the night in the hospital post bilateral mastectomy (removal of both breasts) when I couldn't not look in the mirror and pulled up my gown.
My breasts were gone.
I felt nauseas, took a deep breath and got myself back together. "It's gone! The cancer that was in my breast is gone!"
My blog posts became less frequent as I dealt with unexpected infections and surgeries, plus big problems with my breast reconstruction surgery. Sometimes I didn't think I could handle another day in such pain. But I did.
I was so incredibly under prepared for being a Survivor. There are so many different organizations, support groups, meal trains, and people seeking to help you when you are going through your Cancer fight. I wouldn't ask to change that in any way. However, survivorship is no Cup of Tea. Heck it's not even something cute like 'whiskey in a tea cup.'
– Rainbow of Emotions After Cancer, July 2019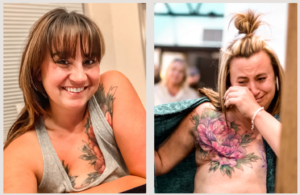 As I healed it became easier to accept my post treatment body. But I would be lying if I did not struggle with how my naked body looked in the mirror. P.ink is a nonprofit organization that gifts mastectomy tattoos to breast cancer survivors. I applied and was lucky enough to be selected in October of 2019. I got my tattoo two weeks later and these photos (right) clearly show my emotional reaction.
Helping to support breast cancer awareness
In my latest blog post on August 31, 2021, I wrote about the week prior when I learned I had diabetes – one more gift from breast cancer I wasn't prepared for. It's a reminder that journeys are often a process, not a singular event.
I also reflected on the positives that my "pink life" has given me, including the valuable connections I made and my involvement in breast cancer support and awareness groups:
How you can show your support
Later this month, Making Strides Against Breast Cancer, the largest network of breast cancer events in the nation, will hold its annual walk. As an executive ambassador committee member for Making Strides, I'm participating in my local cancer walk on Sunday, October 17.
  Sign up to walk or donate to Making Strides Against Breast Cancer walk.
With that I will end my shortest blog entry with saying to all of you, thank you. Thank you for loving me for who I am as a survivor. For allowing me to participate in the organizations I mentioned as they all give me more fight than I thought I could have. Thank you for supporting these organizations to allow them to change people's lives like mine. I know that I may appear as a broken, glued-together mess of a person after my life journey thus far, and that may be so. But, I see a beautiful, colorful, pieced together mosaic or a stained glass masterpiece! Take in my beauty friends! It's all I've got!
– Living My Pink Life, August 31, 2021