Based on an interview with Rose ­­­Medical Center doula Barbara Moore
When it comes to aligning your labor and delivery experience with your needs and desires, hiring the services of a qualified doula can make all the difference.
---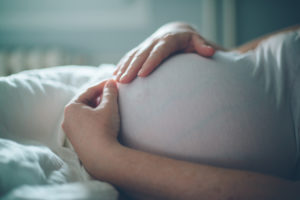 What's the first thing that comes to mind when you hear the word "doula?"
Some might associate the term with home birth and un-medicated delivery, picturing the doula assisting a midwife during a home birth.
Others might be under the impression that doulas are a luxury. Still others might scratch their head and wonder what a doula actually does or why one's services are needed in the age of modern medicine.
The word doula comes from a Greek term meaning "one who serves." A doula is a nonmedical companion, providing emotional and physical support throughout the birthing process.
As a certified doula with more than three decades of experience (as well as enjoying the births of her own four children), Barbara Moore was asked to address some misconceptions and misgivings about doulas. Hopefully this short read will leave you with a greater understanding of the work doulas do.
Beyond that, we hope that you will be encouraged to consider using a qualified doula if you are pregnant or planning to have children in the future. Here are seven things you should know about doulas.
A good doula will work in partnership with your medical providers
A good doula – one who's properly trained and certified – will work right alongside your medical team to provide physical, emotional and mental support during one of the most meaningful events in your life. Rather than pushing her own philosophy, she will seek to understand your unique needs and goals, helping you use your voice.
She will be your advocate and will help you formulate questions for your medical team so that you will be able to make informed decisions about your medical care. She will be by your side to listen, reassure and keep you calm. As another doula on the Rose doula team often says, "Your doula will help normalize the experience."
What's more, she will have experience listening to doctors and understanding their medical explanations and recommendations, even in the fast-paced moments of labor and delivery. On this momentous and sometimes overwhelming occasion of preparing to meet your child, a doula can clearly and calmly articulate each step of the birthing process.
Doulas can support all birth plans, including natural (unmedicated) birth, epidural plans and cesarean birth
We'd like to dispel the misconception that doulas are opposed to using medications during labor, are against cesarean deliveries and only support so-called "natural" births. This is far from the truth.
While the services of doulas are often used by women pursuing unmedicated or what is often referred to as "natural birth," we also work alongside OB-GYNs and midwives in the hospital with women choosing all methods for labor/delivery. A woman who plans on receiving an epidural, or has a date on the calendar for a scheduled cesarean delivery, can derive just as much benefit from a doula as one who is hoping to avoid interventions and medications. All of the Rose Medical Center doulas have the ability to support couples in a variety of techniques, such as Hypnobirthing, Lamaze breathing and the Bradley Method, to name just a few.
In the event of a cesarean, whether planned or unplanned, the doula can explain every step of the surgical process. At Rose Medical Center, Rose doulas are invited to accompany women and their partners into the operating room where we can continue to offer emotional support throughout the birthing process.
Studies have shown there are real, measurable benefits of using a doula
This might surprise some people, but it is true. A meta-analysis published last summer examined 27 studies related to women giving birth who received 'continuous support,' which was defined by the analysis as someone who stayed alongside her to offer emotional and physical help as needed.
Of the 15,000 women involved in the studies, those receiving continuous support were found to have a higher instance of giving birth spontaneously (meaning vaginally and without the use of vacuum extraction or forceps), less likely to use pain medications, less likely to require cesarean, and more likely to report overall satisfaction with their birthing experience.
Last year the American College of Obstetricians and Gynecologists released a statement noting "evidence suggests that, in addition to regular nursing care, continuous one-to-one emotional support provided by support personnel, such as a doula, is associated with improved outcomes for women in labor."
You can (and should) take your time and find a doula who matches your philosophy and personality
Finding the right doula for you takes time. This is a momentous occasion – finding someone with the right chemistry is important to form a relationship that supports and guides you through the process.
At Rose, we offer a free doula seminar each month that allows people to meet with our doulas in person and get a sense of compatibility. We also know one another very well and have a good sense of what type of patient pairs best with each of the doulas on our team. We cover each other by providing backup in order to be sure that all of our clients have doula support when it comes time for labor. Each doula has her own Rose Medical Center online profile that outlines her birth philosophy.
A doula's availability before and after labor and delivery can vary widely
It is a given that your doula will be by your side during labor. But what about during pregnancy and in the postpartum period? The answer is that it depends.
Some doula services include visits to the home before and after birth to offer education and support throughout the entire process, including postpartum lactation coaching. Others are more focused on continuous support within the hospital or labor and delivery support only. You can find more information about what the Rose doula program offers on the Rose website.
If you have specific concerns or goals concerning pregnancy and postpartum, it is important to bring those up with your doula or doula-to be. Some doulas even have special certification for offering support during the postpartum period.
Doulas have international certifying agencies
While doulas aren't doctors, they do have professional training. Educating organizations such as DONA International (Doulas of North America), International Childbirth Education Association (ICEA) and CAPPA (Childbirth and Postpartum Professional Association) certify doulas to give women the support they need throughout the birthing process. Inquiring about certifications is an easy way to learn more about a doula's qualifications and specialties, which can help determine if they align with your needs.
In our case, every doula at Rose Medical Center is not only certified by one of the internationally certifying agencies, but has been vetted by the hospital to support couples in labor and attend the births, both vaginal and cesarean.
A doula doesn't have to break the bank
Finally, it's important for women considering hiring a doula to know that they can find affordable options. While a private doula may command fees that range from $900-1,500 in the Denver/Boulder area, many are much less expensive, particularly if they belong to a larger organization like a community hospital. Employing a Rose Doula to support your birth is a $400 investment.
The Rose Doula team wants to help as many women as possible have a positive, healthy, empowering birthing experience. It is our joy and our passion to serve.