Tami and Brent's road to parenthood was full of twists, turns and roadblocks but at the end of their journey, they had the family they always dreamed of.
---
Tami and Brent were no strangers to the medical world. Tami, a nurse, and Brent, a physician assistant, met and still work at Rose Medical Center. They were well-versed in taking care of other people, but shortly after they began trying to expand their family they found themselves on the other side.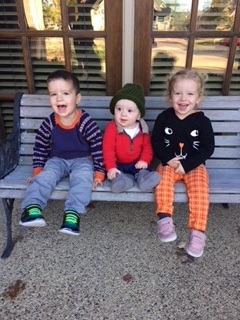 Tami and Brent connected over their shared love of a healthy, active lifestyle. Tami is an avid cyclist and Brent competes in IRONMAN triathlons. Despite this healthy lifestyle, the couple had trouble getting pregnant. Shortly after they began trying, Tami started experiencing pain during intercourse, which she had never before experienced. This was the first sign that something wasn't right. Then while the two were on a bike ride in Moab, Utah, Tami began having intense pelvic pain.
The cause of the pain was uncovered when a cyst was found on her ovary. To be safe, Tami visited a physician who specializes in gynecologic oncology. Thankfully it was determined that the cyst was not cancerous, and the conversation turned to surgery. But this was put on hold when they found out she was pregnant. The couple was overjoyed at this turn of events, but that joy soon ended. Tami suffered a miscarriage.
Overcoming ovarian cysts and endometriosis
After the miscarriage, they decided to move forward with surgery to remove the cyst. During this time, Tami was also diagnosed with endometriosis. This painful disease affects more than 11 percent of American women of reproductive age and can have a significant impact on fertility. This brought Tami to CU Medicine OB-GYN East Denver (Rocky Mountain) where Dr. Daniel Jacobson performed her surgery.
Once she recovered from her successful surgery, Tami and Brent wanted to try once more to expand their family. They, again, were met with struggle.
"At the time, I said since I have a known disease that causes fertility issues, maybe I need to see a specialist," recalls Tami.
She underwent a hysterosalpingogram (HSG) procedure, which involves placing an iodine-based dye through the cervix and taking X-rays. Tami had one fallopian tube blocked completely and one that was either spasming or also blocked.
"I remember thinking about how when you're young, they warn you about how easy it is to get pregnant," says Tami. "But then it wasn't easy, and it was so frustrating."
The couple quickly decided to go all in and undergo in vitro fertilization (IVF) treatment. This led them to another university resource, University of Colorado Advanced Reproductive Medicine (CU ARM).
Double the joy
At CU ARM, two embryos were implanted, which resulted in a successful pregnancy of twins. The couple joyfully "graduated" from their fertility doctor and once again turned to CU Medicine OB-GYN East Denver (Rocky Mountain).
Throughout the pregnancy, the couple met with CU Medicine OB-GYN East Denver (Rocky Mountain) doctors including Dr. Allison Herman and Dr. Alison Patterson.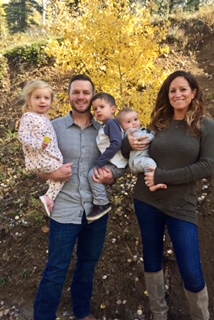 "Everyone is just great, that's all I can say," Tami explains. "Everyone is very thorough and easy to talk to about anything." While Tami and Brent enjoyed their interactions with all the doctors and staff, they really connected with Dr. Patterson, and she became their primary OB-GYN.
Tami went into labor on a Tuesday and Dr. Patterson's day off happened to be on Wednesday. This did not stop her from caring for her patient. Dr. Patterson spoke with Tami about staying at work to be there for her.
"I remember thinking, Oh she's not going to see her family so she could help us deliver our family," Tami says tearfully. "It was just very, very sweet."
Ultimately because Tami was in labor for an extended amount of time, Dr. Patterson performed a C-section. Twins Evelyn and Mitchell were born healthy and so loved.
A naturally unexpected surprise
Tami came back to CU Medicine OB-GYN East Denver (Rocky Mountain) for an intrauterine device (IUD), which Marsha Merry, a women's health nurse practitioner (WHNP-BC), placed. Unfortunately, Tami continued to have cysts on her ovaries, and Dr. Patterson determined that she should go on oral contraceptives instead.
Unhappy with some of the side effects of the pill, Tami stopped taking it. After their family of two expanded to four, Tami and Brent thought they were done. But life had other plans.
Tami was once again pregnant, this time naturally. There was never a question of who they would see. They came back to Dr. Patterson. The couple scheduled a C-section and tubal ligation. The birth was easy, healthy, and Dr. Patterson delivered their third child, Edward.
The road was winding, but today Tami and Brent have the family they always dreamed of. "Things work out the way they are supposed to," Tami says.