After another clinic reacted to her miscarriage with cold indifference, Kate followed a friend's recommendation and sought care at CU Medicine OB-GYN East Denver (Rocky Mountain).
---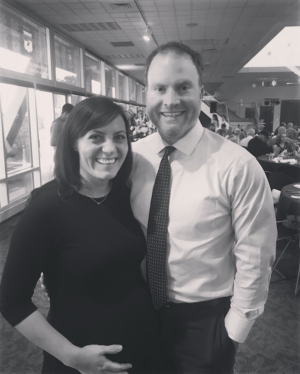 Kate and her husband Chris had been trying to get pregnant for a while before Kate suspected that something might not be quite right. After bringing her concerns to the attention of the OB-GYN she was seeing at the time, Kate took three rounds of Clomid, a prescription drug that helps women ovulate. After the third round, the couple was thrilled to learn they were expecting. Unfortunately, they suffered a miscarriage after six weeks of pregnancy.
When Kate returned to her OB-GYN for testing following the miscarriage, she was met with uncaring treatment in a moment that called for compassion and empathy.
"They sent me to two different labs to have bloodwork done on two different days and then that was it," she explains. "The way they treated me felt as if they were saying, 'Sorry, but this happens all the time.'"
Seeking a fresh start and new physician, Kate scheduled an appointment at CU Medicine OB-GYN East Denver (Rocky Mountain) on the recommendation of a girlfriend. She knew that she wanted to keep trying to have a baby, and was drawn to the clinic's reputation as well as its ties to Rose Medical Center, where she one day hoped to give birth.
A pleasant pregnancy surprise
After the miscarriage, Kate and Chris decided to take a short break from Clomid treatments and actively trying to get pregnant. But as fate would have it, they got pregnant shortly before Kate's initial consult with Dr. Emily Schneider.
"We confirmed the pregnancy at the appointment," Kate recalls. "Dr. Schneider and the staff were so good. Her nurse Linda was fantastic and the ultrasound tech Donna was super sweet and supportive – and was appalled that the other OB-GYN office hadn't done an ultrasound after our miscarriage."
Following a healthy and uneventful pregnancy, Kate and Chris welcomed their firstborn daughter into the world one early summer morning in 2016.
"I tried to see all of the doctors within the practice throughout my pregnancy," Kate explains. "And the one that I didn't see – Dr. Herman – ended up delivering the baby. And I even connected with her because she has English bulldogs and I have one too!"
Planning for baby number two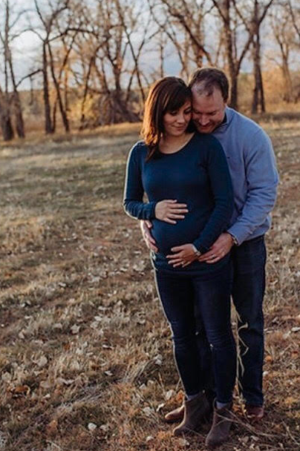 After they got through the newborn stage with their daughter, Kate and Chris started trying for another. To their great joy, they quickly found that they were expecting again. They will be having a baby boy spring of 2018.
At their 20-week ultrasound, Kate and Chris were told that choroid plexus cysts were found on their baby's brain. While the cysts ended up resolving as the baby continued to grow and develop, Kate was thankful for the thorough and compassionate approach that the CU Medicine OB-GYN East Denver (Rocky Mountain) team took in keeping them updated and educated.
"At every appointment we've had, the doctors and staff have been very gentle but also kept us informed," she explains. "When you work with people who are very educated in a certain field, sometimes it's hard for them to communicate information in a way that you can digest and feel comfortable.
"At CU Medicine OB-GYN East Denver (Rocky Mountain), they're able to explain things in a way that I can understand. That's a unique skill, and they have that. Every single one of the doctors has that. They've all made me feel extremely comfortable with the information they're giving me," says Kate.
As the due date approaches and the family of three prepares to become four, Kate is enjoying the small, precious moments.
"It's been a really cool experience being pregnant and having a daughter. She likes to come up to my stomach and poke my belly button and say 'baby.' We've got our son's room set up, we've got the clothes … we're ready for him," she says with a smile.