First time parents Jeremy and Whitney found joy and comfort through their twin pregnancy with Drs. Emily Schneider and Jennifer Pitotti.
---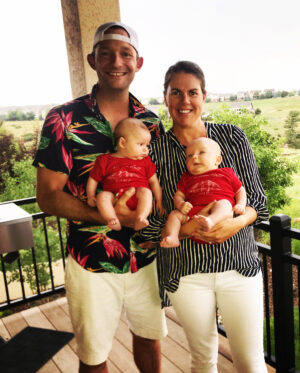 Jeremy and Whitney got more than they bargained for when they became pregnant. They knew they would be expanding their family but didn't realize they would also count many of the CU Medicine OB-GYN East Denver (Rocky Mountain) staff members and physicians as a family by the end of their nine months.
Finding a team, not just an OB-GYN
When the couple found out they were pregnant, they did not research OB-GYNs in Denver because they knew where they wanted to be. Jeremy's sister had been to CU Medicine OB-GYN East Denver (Rocky Mountain) and had the most wonderful experience with Dr. Daniel Jacobson who delivered her baby.
Additionally, the couple knew they wanted to deliver at Rose Medical. CU Medicine OB-GYN East Denver (Rocky Mountain)'s proximity and close relationship with Rose was another attractive feature. Jeremy himself was born at Rose Medical and they knew they would like their children to be delivered there as well.
Ultimately, the couple chose to see Dr. Emily Schneider and immediately felt comfortable with her and the entire team.
"We just felt at home right from the get-go," says Whitney.
That comfort was certainly something the couple needed because they had a surprise when they visited Donna, an ultrasound technician. They were having twins!
"Donna did the ultrasound," Jeremy recalls, "and said, 'There's your baby … And there's the second.' I said, 'What? The second ovary?' I had no idea what we were looking at or that we were having twins."
Twins: double the fun, double the stress
Jeremy and Whitney may have had an inkling that multiples were on the way for them. There are many twins in Jeremy's family, including Jeremy himself. His great aunt and uncle were also twins.
With twins, there are many more ultrasounds, appointments and anxiety.
"I think for anybody you're a little nervous because you don't know what the process is and you don't know what to do," says Jeremy. "We were just totally blown away by the Rocky Mountain office and how comfortable everyone made us feel. We both feel like we developed incredible relationships with everyone there."
They were visiting CU Medicine OB-GYN East Denver (Rocky Mountain) every two weeks and then every week throughout the pregnancy. This is to keep a close eye on the babies, as twin pregnancies can result in more complications. Jeremy and Whitney both enjoyed going to the office that often and even felt a little sad after their children were born because they would not be going as often.
"They were our little family for that nine months, you know," says Jeremy. "We saw them so much. We became friends with them."
"They make you feel like they have all the time in the world for you," says Whitney, agreeing with her husband. "They make you feel like family."
A late-night hospital visit for preterm labor
The practice encourages patients to see multiple physicians and get to know them, as who delivers the baby may be different because of which physician is on call that day. This was something Jeremy and Whitney really valued, and while they primarily saw Dr. Schneider, they also developed a strong bond with Dr. Jennifer Pitotti.
These close relationships with Drs. Schneider and Pitotti were invaluable during the pregnancy. At 28 weeks, Whitney had preterm contractions that resulted in a trip to the hospital one night.
Preterm contractions can sometimes lead to a preterm birth and with twins there is already a higher chance of preterm birth. According to The American College of Obstetricians and Gynecologists, more than half of all twins are born preterm.
Related Reading: Labor & Delivery
That was not the case for Whitney and Jeremy. They were able to leave the hospital that night and go back to their normal schedules. This is not uncommon. For about 3 in every 10 women, preterm labor stops on its own. But this did raise some anxiety for the couple.
Jeremy remembers that time as truly uncharted territory for the couple. They were unclear on a lot of the aspects of a preterm birth and what that would mean for them and their twins.
"Dr. Schneider and Dr. Pitotti were unbelievable during and after that," recalls Whitney. "Being a new mom – or new parents – they really put us as ease."
"They were very in control of everything that happened," says Jeremy. "They were calm and explained everything to us. That was really great."
After this preterm labor incident, the couple celebrated Whitney making it one more week to the full nine months. In fact, every week closer was a huge milestone for them.
Crying & comforting while delivering a twin pregnancy
Because they were having twins, the couple decided to schedule a C-section delivery and were thrilled to learn they could have both physicians there with them. They scheduled the surgery for the day before Whitney was to reach 38 weeks.
"We made that day our goal," says Whitney. "That was our trophy. That was our prize. And we made it!"
Neither Jeremy nor Whitney had ever had any type of surgery and both were understandably nervous upon entering the operating room. But they both say those jitters subsided when Dr. Pitotti and Dr. Schneider arrived.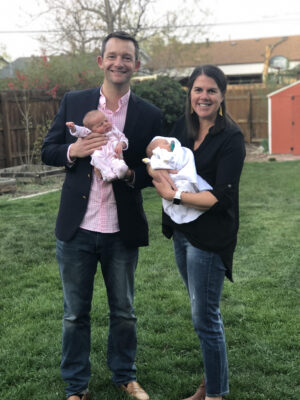 "It really was scary, and Whitney started crying a little, but Dr. Pitotti basically ran over to her to comfort her," says Jeremy. "Once we had our team in there, everything just kind of softened. It was really a warm and safe environment."
"It was the most comforting and wonderful experience we could have asked for," recalls Whitney.
After an uneventful and smooth C-section, Jeremy and Whitney welcomed Molly and Theodore, or Teddy as they call him, into the world.
Continuing the tradition, with new additions
The couple has kept celebrating since that day. Rather than celebrate the end of another week, Whitney and Jeremy have a little celebration for making it through another day. They end their long workdays with a glass of wine and a walk around the neighborhood with Molly and Teddy in their strollers.
They call this daily celebration of their "Twin Wine Down." The couple talks about all of the good things that happened, what they accomplished and, of course, their children.
Postpartum reality
After the birth of the twins, Whitney began experiencing some postpartum depression. Her experience is one that many women face, and she felt it was important to share with others.
She found the post-op visits with Dr. Schneider to be critically important.
Not only was Dr. Schneider checking on how her body was healing, she also made it a point to check in on how Whitney was feeling emotionally. Jeremy accompanied Whitney to her post-op appointments (twins in tow) and the three of them had an open discussion on Whitney's current emotions.
"I felt so safe talking to Dr. Schneider about my depression and anxiety postpartum," shares Whitney. "She was on it. I was crying for no reason, and not enjoying my babies like I thought I should be. I was going through a very rough time. Dr. Schneider and I decided to start me on Zoloft. I can honestly say it changed my life. It has brought the sunshine back into my life and being a new mom."
Whitney's hope is that mothers speak more openly about postpartum depression because there is support out there to help. She said, "We got lucky to have such incredible doctors."