Under the watchful care of Dr. Herman and her colleagues, Amy gave birth to two boys in the face of daunting complications.
---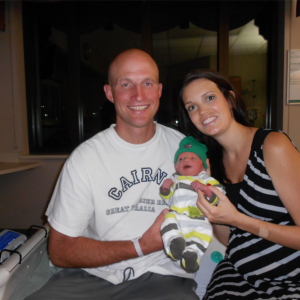 Before Amy and her husband, Adam, decided to start a family, they were already bracing for some setbacks and challenges. Shortly after establishing care with Dr. Allison Herman for a routine wellness exam, Amy made it a point to discuss her medical history and the potential hurdles she'd have to overcome to have a healthy pregnancy in the future.
"I had a longstanding history of ovarian cysts and ruptures as well as irregular menstrual cycles," Amy explains. "Dr. Herman and I discussed our options, including the possibility of needing fertility treatment at some point. But first we decided on trying to get pregnant on our own for six months, and then to schedule a return visit."
To their surprise and delight, Amy's next appointment ended up being just three weeks later, as she became pregnant shortly after they started trying. Dr. Herman began seeing the couple regularly for checkups and ultrasounds as the pregnancy progressed. During one of these visits, they received frightening news.
"At our 20-week ultrasound, she sat us down and let us know we had to have a serious
discussion," recalls Amy. "She explained that we were a 'complete previa' – that the placenta had grown in the wrong spot. I was shocked – I just remember not really hearing her."
Placenta previa is a condition in which the placenta, an organ that develops within the uterus to nourish the fetus, obstructs the lower opening of the uterus called the cervix. This can lead to heavy vaginal bleeding in the third trimester, and may result in the need for a C-section if the placenta does not move upward as the due date nears. Amy's case was diagnosed as a complete placenta previa, meaning the cervix was totally obstructed at the time of her ultrasound.
Advocacy and attention through placenta previa pregnancy and birth
The team at CU Medicine OB-GYN East Denver (Rocky Mountain) kept a close watch on Amy's pregnancy, asking her during each visit whether she'd experienced any bleeding. Things were progressing smoothly in the pregnancy until the 31-week mark.
I was cleaning the house, sitting on the stairs, and suddenly started bleeding…They said, 'You need to get in now.'
Amy and Adam rushed to the hospital and into the chaos of bustling specialists and technicians surrounded by the whirrs and tones of machines and monitors. An ultrasound revealed that Amy was contracting every couple of minutes and had begun giving birth preterm.
Her caregivers were able to prevent her from going into labor. The next five weeks were filled with extended hospital visits, strict bed rest and oral medications to keep her contractions under control.
At last on June 5, 2012, the couple's firstborn son, Xander, entered the world through C-section delivery. This was followed by an extended stay in the hospital to monitor Xander and Amy, ensuring her bleeding was under control and that Xander was healthy enough to go home.
During the confusion and roller coaster emotions of multiple hospital visits and a high-risk pregnancy, the couple relied on Dr. Herman's clearheaded thinking.
"She was a really good advocate for me," says Amy. "We had some complications with the spinal injection, and she knew who to call. She made sure the right specialists got involved."
Close monitoring through another high risk pregnancy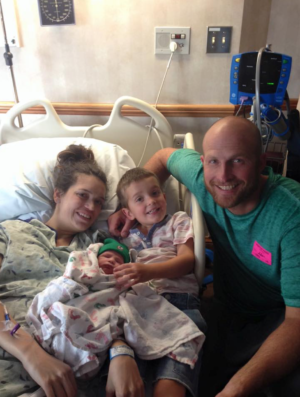 Following the high risk pregnancy that led to the birth of her son, Amy knew that having more children could present similar challenges. By this point, Amy and Dr. Herman had developed a strong rapport that allowed for an open discussion about the future.
"Dr. Herman knew all of my concerns and we talked about whether having a baby was safe," Amy explains. "She's very easy to talk to. She feels like one of your best friends, and she cares so much."
A few years later, Amy and Adam made the decision to try for a second child, but they suffered the heartbreak of a miscarriage. Amy vividly recalls the phone call she received from Dr. Herman to explain that the pregnancy was no longer viable.
"She would have stayed on the phone and listened to me cry all day if she needed to," Amy says sincerely.
Fortunately, Amy was able to get pregnant again shortly thereafter. Knowing that placenta previa was a likelihood, the team at CU Medicine OB-GYN East Denver (Rocky Mountain) took extra steps to closely monitor the pregnancy as it progressed. This time the diagnosis was partial placenta previa, a slightly less severe case than before.
Amy visited the hospital several times during the third trimester as her body began to enter preterm labor. Each time labor was prevented, until her water broke at 38 weeks.
"The delivery happened at 2 in the morning," Amy explains. "As soon as we got to our room, I was met by Dr. Herman's colleague Dr. Corinne Dix. She was waiting for us and she knew all of the details about my case."
In the small hours of the morning on September 12, 2015, Amy and Adam welcomed their second son, Hendrix, into the world.
Blessed to find great care in a new city
When Amy and Adam first moved to Denver, they weren't sure where to start when it came to finding healthcare providers. Amy is in healthcare herself, having worked as an ER nurse and recently completing studies to become a nurse practitioner.
"We're so blessed that we ended up with Dr. Herman," says Amy. "When you're brand new to a city, you just never know. But for some reason we were put together.
"As I was doing my clinical rotations, I cared for some of Dr. Herman's patients. I did my last rotation at Rose Medical Center, where Hendrix was born. I talked to a pregnant patient of Dr. Herman's who said, 'We have never felt so comfortable.'"
Amy and her healthy family completely agree.